Stone Capital – The One with the Out of Season Gift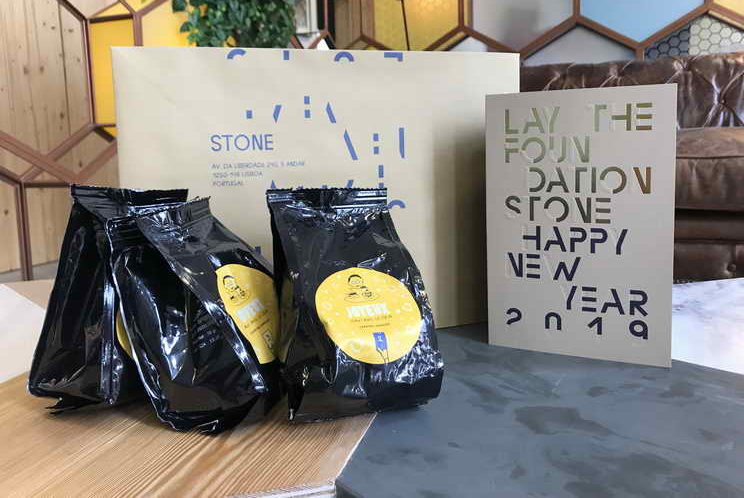 The holidays are an important season for us at Stone since this is the time where we start thinking up the perfect Christmas gifts for our clients and partners.
We start around November, throwing ideas around:
" A hand made guest book that each client can have in their new apartment" says one
" A magnificent Champagne bottle", shout out another one
" An Austin Martin for each one of our dear clients" I say, but no one hears me….
All ideas are great, and all are thought out in detail, but by mid-December we thought: Why not think of something symbolic and that showcases what the best of the best can offer, so this year's gift is a truly special one and stands for causes that we deeply believe in and that are very dear to us.
WHOSE MAGICAL HANDS MADE THIS GIFT?
This year we stood beside these 2 extraordinary initiatives in crafting your gift:
COFFEE by JOYEUX   
Café Joyeux was born from the amazing experience Yann and Lydwine had in 2012 when they launched the "Emeraude Voile Solidaire" – an 18-meter catamaran that sailed for 6 years and a total of 475 trips with a crew mainly made up of women and men suffering from mental disorders and social exclusion.
These trips were extraordinary encounters full of joy and meaning, but also the realization that job insecurity among people with intellectual disabilities, especially the younger generation, was a major issue.
During a returning trip in 2014, Theo – a 20 years old autistic sailor asks Yann: «Captain, it seems that you are the boss; would you by any chance have a job for me? »
This was the starting point of CAFÉ JOYEUX – a Coffee Shop where people with intellectual and cognitive disabilities are given the center stage.
Here, they are responsible for preparation, cooking, and serving meals & drinks.
But more importantly, it is through their integration that we all become stronger when we accept our vulnerability, and closer to each other when we respect our differences.
ENVELOPE by CERCICA
"If you can´t go to the mountain, the mountain will come to you"
CERCICA was created by a group of Portuguese Super-Hero parents, professionals and others that couldn't find a satisfactory answer in the regular educational system which combined education and integration for children and young adults with special needs.
So, they did it themselves!
Empowered with the knowledge that difference can be a star asset, they started out as an association for a small group of children and has now grown in order to attend to their different necessities and evolution.
CERCICA develops and promotes integration in education, professional training and work force, occupational activities, sports and recreational activities as well as home and residential support for children and young adults with intellectual and cognitive disabilities.
One such incredible achievement is the Cercica Grafica, whose magical hands crafted and machine managed this amazing envelope!
← Back to News